Sonion appoints international profile to its Board of Directors
Copenhagen, November 1, 2021
Sonion is pleased to announce the appointment of Piet Coelewij, former CEO of Wehkamp, as a new member of the Board of Directors of Sonion. The appointment further strengthens the competencies of the company's Board as Sonion continues to build on its position as a global leader in the development and manufacturing of cutting-edge audio components.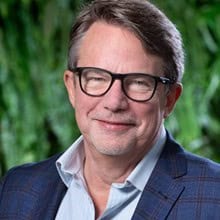 Walther Thygesen, Chairman of Sonion, says: "I am very pleased that Piet Coelewij has agreed to join our Board. During his career, Piet has demonstrated strong skills in commercializing innovation and product development which Sonion will benefit from".
Walther Thygesen continues: "Piet Coelewij has vast international experience and expertise in areas that are strategically important to Sonion and will bring important capabilities to the Board. Piet has deep knowledge on strategic analysis and global product development in advanced consumer audio technologies".
Since 2019, Piet Coelewij has transitioned into a non-executive career and is an active investor in several start-ups. His purpose is to support organizations accelerate transformational (digital) innovation.
During his executive career, Piet Coelewij was CEO of Wehkamp, a leading Dutch E-commerce retailer. Previously, he was Vice President of Global Operations and Managing Director EMEA for Sonos Inc. Prior to that, Piet was VP hardlines for Amazon in the UK, where he was responsible for both retail and the merchant business. For the first 20 years of his career, Piet held an executive position in Philips Electronics in Asia, America, and Europe. Until 2007, he was CEO of Philips Consumer Electronics in China. And before that, he was also Senior Vice President and MD of Global Mainstream TV in Singapore.
Piet Coelewij says: "I am delighted to be joining the Board of Sonion. Sonion has over the years played an important role in bringing innovative products and solutions to the market for hearing instruments. I am looking forward to supporting Sonion in maintaining that position and at the same time contributing to realizing the growth potential in the market for high-end hearables and in-ear earphones".
"The appointment of Piet Coelewij will be greatly a benefit to Sonion's growth and strategy and the development and expansion of our entire product portfolio," says Walter Thygesen.
Piet Coelewij was appointed to the Board following an extraordinary general meeting on October 13th, 2021.
About Sonion
Sonion is a global leader in the development and manufacturing of micro acoustic and micro mechanical solutions for hearing instruments, high-end hearables and in-ear earphones. Sonion is owned by Novo Holdings A/S, the holding company within the Novo Group that manages the assets of the Novo Nordisk Foundation. Read more at www.sonion.com.
Further information
Christian Nielsen
President & CEO
Mail to: cn@sonion.com
Tel: +45 20 41 98 49